NEPCON VIETNAM 2012:Evidence of Success. Satisfactions Resonate
导读: "METALEX Vietnam 2012" and "NEPCON Vietnam 2012" were concluded with a bigger success than before
Quoted as a true B2B platform that answer all the needs of industrialists'—be it technology, knowledge, or business network—it is unanimous and proven that "METALEX Vietnam 2012" and "NEPCON Vietnam 2012" were concluded with a bigger success than before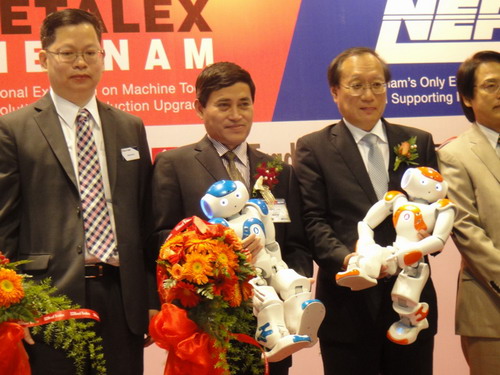 From October 4–6,2012,at SECC,HCMC, manufacturing industrialists from across Vietnam and over 30 countries discovered leading-edge technologies that they desired, be they machine tools and metalworking solutions for the supporting industries or SMT and testing technologies for the electronics industry. 700 brands of technologies from 30 countries and seven national pavilions were there demonstrating their best of technologies
Mr. Hiroaki Isobe, Executive Vice President of JAPAN EXTERNAL TRADE ORGANIZATION (JETRO) said that"The situation of Vietnam''''s supporting industries is promising. We believe the '5th Exhibition on Supporting Industries in Ho Chi Minh City' will contribute to further growth of the industries here by bringing Japanese buyers to meet Vietnamese sellers to conduct beautiful business which will carry on even after the shows have ended."
Mr. George Choo, Executive Director of Association of Electronic Industries in Singapore, Leader of Singapore Pavilion said that "For our participation this year, visitors will find that there are key players from Singapore who come to exhibit such as Panasonic, Nikon, and Mydata, just to name a few. We look forward to having more exposure in Vietnam so we can improve the level of collaboration between companies in Singapore and Vietnam as many of our brands are new here."
Mr. Nishikant Jumde, Sr. Deputy Director of FORMERLY ENGINEERING EXPORT PROMOTION COUNCIL (EEPC India), Leader of India Pavilion said that "We like this exhibition very much. Everything is wonderful. At the shows, we meet so many companies as well as our competitors from various countries like Thailand, Singapore, and others, which helps us to improve ourselves to develop more in the future."
Mr. Kenji Toyooka, Senior Executive Director of OSAKA FOUNDATION FOR TRADE & INDUSTRY said that
"The Osaka Foundation for Trade & Industry organize a group visit by bringing 8 companies from Japan to visit the co-location of the 3 expos. As now the economic is quite challenging due to the currency exchange between US dollars and Japanese yen, the small and medium enterprises need to find new markets, and with the coming AEC in 2015 as well as the growing industries in Vietnam, we believe it will be a good investment destination for Japan as the number of Japanese companies in Vietnam are increasing too. The members we bring are pleased with this opportunity, and they will try to continue making relationship here for further business collaboration."
Assoc. Prof. Dr. Pham Ngoc Tuan, Vice President of HO CHI MINH CITY ASSOCIATION OF MECHANICAL ENGINEERING (HAME) said that "The audience of the Engineer Master Class seem very eager to learn about the knowledge and case studies that they can apply to their own enterprises' business. I think because they are interested in the guidelines for cost control and productivity, as their questions in the Q&A session were also very detailed. It shows that this kind of training session is needed, as well as the exhibition of machinery that help them see the new technology to be used in their production line as well."
Ph. D. Tran Quang Hung, General Secretary of VIETNAM ELECTRONIC INDUSTRIES ASSOCIATION (VEIA) said that "The co-location of the 3 expos this year is very interesting with the displays of machine tools especially for the manufacturing of electronics products in NEPCON Vietnam. It goes along with the plan of our government to make Vietnam and industrialized country by the year 2020. As for the topic of NEPCON Vietnam forum, I would like to propose the framework for the development of supporting industries through increased quality and efficiency. The prospect for Vietnam's electronics industry now is quite promising as in 2011, the revenue from this industries doubled that of the previous year, and we hope it will grow even more this year."
Mr Chainarong Limpkittisin, Managing Director of Reed Tradex said that Supporting industries play extremely vital roles in Vietnam. Especially the parts manufacturing sector which is a fundamental factor that determines the growth of the industries--be it the motorbike, automotive, or electronics sector--and also the economy and society. A strong parts manufacturing sector can contribute many benefits to the country such as reduced costs of parts imports, higher local skills, enhanced productivity efficiency, superior product values, healthier economy, etc.
It is evident to us, Reed Tradex, who has been working with Vietnam's government bodies on many of our activities, that the Government highly values the importance of the supporting industries including the parts making sector and has been providing supports they need to become self-sufficient. Becoming self-sufficient means the quality of the parts that are locally produced lives up to the expectations of investors. But to achieve that status, new machinery and technologies are needed, new know-how is required, and new business networks need to be established and expanded.
"We, at Reed Tradex, are determined for the show we organize to play its parts in driving Vietnam's industrial development forward, and we hope that this event will do its parts in helping to fortify the supporting industries.From October 4 – 6, 2012, at SECC, HCMC, manufacturing industrialists from across Vietnam and over 30 countries discovered leading-edge technologies that they desired, be they machine tools and metalworking solutions for the supporting industries or SMT and testing technologies for the electronics industry. 700 brands of technologies from 30 countries and seven national pavilions were there demonstrating their best of technologies
The shows welcomed 30% more Visitors than in 2011. The industrialists were full of enthusiasm seeking business and personal developments and were impressed with the quality of the technologies and knowledge provided All of this is possible because of all of you and your kind supports, so I would like to take this opportunity to thank the JETRO and the ITPC for your trusts and for your collaborations in advancing the industries together. Thank you our local partner, supporters, exhibitors, co-organizers of seminars and activities, visitors, seminar delegates, members of the press, and everyone involved in this project. Next year, we will offer even more business opportunities in order to serve Vietnamese industrialists' demands. Our shows will absolutely be ones of the best events for Vietnam's industrial developments. "'METALEX – NEPCON Vietnam 2013" will be organized during October 10-12, at Saigon Exhibition and Convention Center (SECC).
For more information, please visit website www.metalexvietnam.com or send e-mail to Reed Tradex Contact Center at contactcenter@reedtradex.co.th
Reporters who need more information please contact: Kasinee.phan@reedtradex.co.th

声明: 本文由入驻维科号的作者撰写,观点仅代表作者本人,不代表OFweek立场。如有侵权或其他问题,请联系举报。